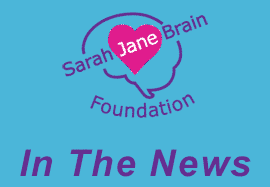 WALL, NJ – This morning the Sarah Jane Brain Foundation presented their concussion prevention and awareness program "Concussions and You, On and Off the Field" at Wall High School. Leslie Mabry, Special Events Director for the Sarah Jane Brain Foundation, presented the multimedia presentation to Gerald Schulte's Anatomy and Physiology class as well as Cathy Gallagher's AP Biology class for a total of around 50 students.
In both sessions none of the students raised their hands when Mabry posed the question, "how many of are confident that you would be able to identify a concussion in yourself or a teammate?" Mabry pointed out that the largest age group at risk of concussions is high school age or younger and that the potentially fatal "Second Impact Syndrome" (which is when a second concussion occurs before the brain has adequate time to heal from an initial concussion) only occurs in people 21 years of age and younger. Mabry said "we aren't asking you not to play sports we are just asking you to be to be smart about concussions."
This program was a part of the Sarah Jane Brain Project's national tour working to prevent and identify the number one leading cause of death and disability in American youth, brain injury. The foundation presented to Bridgewater-Raritan yesterday and is now on their way to the Washington D.C. area.
The event was a part of a national brain injury awareness tour organized by the Sarah Jane Brain Foundation www.thebrainproject.org