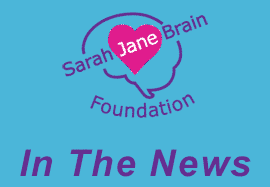 GREENVILLE, NC – On Friday, January 28th the Sarah Jane Brain Project launched their national tour at East Carolina University. The town hall meeting was focused on "How Do We Reintegrate The Family After a Brain Injury in Youth?"
Panelists were local, state and national brain injury specialists. Brock Niceler, MD., Sports Medicine Specialist at ECU, spoke about the importance of having students advocate among their teammates to seek out medical help if they are experiencing concussion symptoms. One student who Dr. Niceler worked with was seventeen-year old A.J. Flores. A.J., who suffered six concussions while playing for his high school team, spoke about the issues he still has with memory loss, headaches and dizziness. Two other high school students were also there to share their stories.
Dennis C.Russo, Ph.D., Clinical Professor, ECU Department of Family Medicine, hosted the event and helped integrate the panelist's expertise into a cohesive message on youth brain injury
Jennifer Hodgson PhD., Associate Professor, Child Development and Family Relations, College of Human Ecology at ECU, spoke on the need to incorporate the whole family into the plan for brain injury care. She emphasized the particular importance of including siblings. Stephen Hooper, Ph.D. Professor of Psychiatry and Pediatrics, University of North Carolina at Chapel Hill, spoke about the developing and implementing the PABI plan for North Carolina. Janet Tyler, PhD., is the Director, Neurologic Disabilities Support Project, University of Kansas Medical Center. Dr. Tyler will be travelling with the national tour and will be speaking at events throughout the country. Also joining the nationwide tour is Ron Savage, Ed.D., Chairman, North American Brain Injury Society, and Chairman, International Pediatric Brain Injury Society will be providing a global perspective on brain injury.
The event was organized by the Brain Injury Association of North Carolina (www.bianc.net) and the Sarah Jane Brain Foundation of New York (www.thebrainproject.org.)