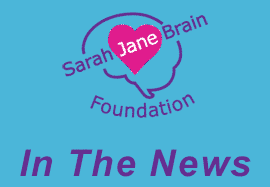 RALEIGH, NC – As a part of their 40+ state nationwide Pediatric Acquired Brain Injury (PABI) tour, the Sarah Jane Brain Foundation hosted a fundraising reception at the NHL All-Star Game on Sunday, January 30th.
During the reception there was a special presentation of the 2010 Sarah Jane Brain Foundation "Cynthia Gibbs Angel Award" to Lisa and Robert Gfeller. The Gfellers are the Founders of The Matthew Gfeller Foundation and The Matthew Gfeller Sport-Related TBI Research Center at UNC-Chapel Hill.
Lisa and Robert Gfeller founded the Matthew Alan Gfeller Foundation after their son, Matthew, suffered a severe helmet to helmet collision during his first varsity football game causing a fatal traumatic brain injury. They helped found the Matthew Gfeller Sport-Related TBI Research Center at UNC-Chapel Hill with the mission of providing the highest level of care for athletes of all ages suffering from sports related brain injuries, and to assist parents, coaches and medical professionals in managing these student athletes. For more information please visit TBIcenter.unc.edu
The Sarah Jane Brain Foundation (SJBF) along with its more than 200 International Advisory Board Members are embarking on a nationwide public awareness campaign dealing with the #1 leading cause of death and disability for American youth: brain injury. The tour will bring awareness of youth sports concussions (brain injuries) to high schools across the country as well as introduce the National Pediatric Acquired Brain Injury Plan (PABI Plan) through town hall meetings at local universities and hospitals. In addition, the tour will be attending professional, collegiate and youth sporting events to bring awareness of the risks and symptoms associated with these brain injuries to a broader audience.