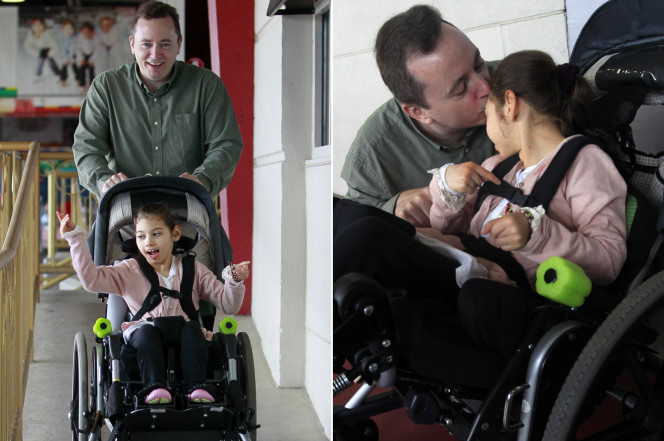 By Andrea Peyser | June 9, 2014
This is a love story. It's the tale of one man's deep and unbreakable bond with the most important person in his life. His daughter.
Sarah Jane Donohue was born in Manhattan's Lenox Hill Hospital in 2005, healthy and strong with beautiful blue-green eyes. Suddenly, the baby grew lethargic. She refused to nurse at her mother's breast.
Sarah Jane's parents didn't know this at the time, but their first child had been attacked. On her fifth night of life, a baby-nurse shook the helpless infant violently, right under the Manhattan roof under which her parents slept, breaking both her collarbones, four ribs and inflicting damage to her brain. Doctors compared her injuries to those she might have suffered in a severe car crash.
After nearly two weeks, the nurse, Noella Allick, a mother of two from the Caribbean island of St. Lucia, admitted she committed the unspeakable crime. Allick was convicted of assault and sentenced in 2006 to 10 years in prison.
Sarah Jane was sentenced, it seemed, to a lifetime of misery. And this is where a father's love comes in.
Sarah Jane's dad, Patrick Donohue, now 43, was told by a New York pediatric neurologist a month after his daughter's birth that she would never walk, talk or do much of anything. He was furious.
"She can't walk or talk, yet — but she will!" he told me.
Donohue, a lawyer, was the finance director for George Pataki's successful campaign to be New York's Republican governor and for his two re-election bids, and ran fund-raising efforts for other GOP candidates, earning six figures a year.
Not anymore. "I get by."
Today, Donohue has a new career — "changing the world for Sarah Jane."
"It's my job as her daddy," he said. "I won't stop until I do."
Sarah Jane turned 9 last Thursday, June 5, which is also my birthday. The child scoots around the Washington Heights apartment she shares with her dad and paternal grandmother in a walker. She laughs, and puts her head of brown curls on her father's shoulder. She sits in his lap.
"I'm a human rocking chair."
Donohue calls her "The Diva," a moniker she earned in preschool because of her infectious smile.
She recognizes her name, tapping a switch when faced with a letter such as "S." She does it "with more than 50 percent accuracy," her father boasted. She doesn't skip or jump like most children her age.
"But she will!" cried her dad.
After Allick struck, Donohue's marriage to Sarah Jane's mother broke up. But he bears no ill will against his former wife, who has remarried and sees Sarah Jane — who has lived with her dad from the start — every week.
In 2007, Donohue started the Sarah Jane Brain Foundation, a nonprofit advocacy group. In 2009, he put together an advisory board that started out with 75 experts in the field of brain injury. Traveling to New York from all parts of the country and Canada, they developed a plan for treating brain-injured patients.
Then last September, he founded a school, the International Academy of Hope — iHope — for brain-injured kids including Sarah Jane.
The wonders never stop.
One girl, whose adoptive mother was told by doctors that the child would never advance, "is walking around the school," said Donohue. "She told her mother two months ago, 'I love you.' This is the kind of miracle that occurs at the school every day."
To pay the $135,000 annual tuition, parents must sue the city's Department of Education for reimbursement, claiming no public school can serve their kids. The school, in Harlem, now has 19 students, and Donohue expects 40 will be enrolled this September.
But paying for a national plan to combat brain injuries is far trickier.
Acquired brain injuries, whether caused by car crashes, war blasts or child abuse — even seizures, brain tumors, meningitis or strokes — are the leading cause of death and disability for young people up to 25 years of age in this country. More than 765,000 young people are treated in hospital emergency rooms each year for brain injuries, more than 80,000 are hospitalized and upward of 11,000 die, according to 2010 figures from the Centers for Disease Control and Prevention. In contrast, there are 56,000 new HIV/AIDS cases diagnosed each year. The federal government funds AIDS research to the tune of $4 billion annually.
Youth-brain-injury research gets just $10 million a year.
Donohue has asked officials in the administration of President Obama to fork over $2.9 billion over seven years to combat brain injuries. In March, he wrote a letter to the president, urging his support. It's signed by a bipartisan group of 108 House members. We'll see what happens. Last month, he attended Obama's summit on sports-related concussions.
He'd like to remarry and give Sarah Jane a sibling or two. Astonishingly, Donohue, a devout Catholic, has forgiven nurse Allick, who was released from prison last year and deported to St. Lucia. "As a Christian, I have to forgive."
This coming Sunday is Father's Day. It's time to honor a Superdad. And let's give a shout-out to all the dads who make their children's lives a little bit better with their love.