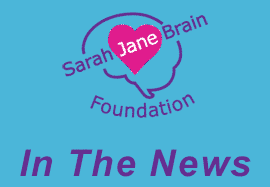 CHARLOTTESVILLE, VA – A traumatic brain injury town hall took place this morning at the Kluge Rehabilitation Center as a part of the Sarah Jane Brain Foundation's national brain injury tour. In attendance were those with brain injuries, families, and medical staff.
Dr. Peter D. Patrick, Associate Professor and Director, Pediatric Psychology, moderated the town hall. He pointed out that, "school systems are often at a loss of what to do with children who have sustained a brain injury." Parents of kids with brain injuries were present and had the opportunity to ask Dr. Patrick questions they had regarding how and when to have their kids go back into the school system. One parent of a child with a brain injury commented that it should be the parent who gets to decide when their child should return to school.
Dr. Patrick told the crowd of about 25 that, "memory disorder is one of the biggest problems with reintegrating kids into schools after a brain injury because it prevents new learning." He also commented that in terms of impact on the family, "the change in personality is the most difficult aspect for parents and children to deal with," which often occurs after a traumatic brain injury.