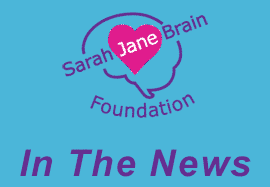 ATLANTA, GA – This evening a town hall discussing "Back to School After a Brain Injury: Re-Entry and Long Term Planning Issues" was held at the Shepherd Center. Before the panel began Founder of the Sarah Jane Brain Foundation, Patrick Donohue, presented the Pediatric Acquired Brain Injury Plan to the audience. He pointed out how the plan would help the often difficult transition from medical care back into the school system following a brain injury.
The large panel of experts ranged from medical professionals to education experts and prompted a lively discussion from the around 20 people in attendance.
Julie Haarbauer-Krupa, PhD, CCC-SLP; Chair, Children and Youth Committee, BSITF, Researcher, Children's Healthcare, helped organize the town hall and discussed the importance of the transition between the medical and education systems.
Bonnie Schaude, a Speech Pathologist at Shepherd Center; pointed out that "social skills are a very important aspect being successful in school, and these skills are often impacted by traumatic brain injury."
Tisha Coggin, M.Ed, School Program Coordinator for Children's Healthcare of Atlanta Hospital, discussed issues transitioning children back into the school system following a brain injury. She commented that "it's really important for parents to understand what their role is in transitioning their kids back into the education system, for instance parents need to collect all of the relevant medical information and connect with the school in order to be an advocate for their child." Lindsay Piland a Speech Pathologist at Shepherd Center, echoed Ms. Coggins comments saying that as kids are being rehabilitated and preparing to return to school, one focus is to "try and educate the parents about the importance of advocacy on behalf of their kids since communication with the school is the key." Joyce Allers, RN; Manger, School Health, Children's Healthcare of Atlanta, discussed how "school nurses are a great resource for parents trying to effectively reintegrate their children in the school system."