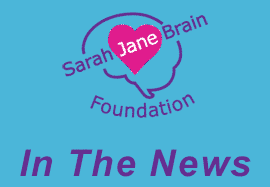 Company to Sponsor 2011 National Pediatric Acquired Brain Injury Plan Tour
Van Nuys, CA – Easton-Bell Sports today announced it will serve as an official sponsor of the "2011 National Pediatric Acquired Brain Injury (PABI) Plan Tour," an initiative of The Sarah Jane Brain Foundation (SJBF). PABI is the leading cause of death and disability for children and young adults in the United States, according to the Centers for Disease Control and Prevention. Over 765,000 American youth enter an Emergency Department every year with a new traumatic brain injury, while more than 80,000 are hospitalized and over 11,000 die annually. The nationwide public awareness tour will visit more than 40 states along its journey, ending in the middle of June.
"Easton-Bell Sports and its associated brands – Riddell, Easton, Bell and Giro – are committed to providing the best head protection for athletes who play sports at all levels," said Easton-Bell Sports President and CEO Paul Harrington. "We are very pleased to support the Sarah Jane Brain Foundation, which shares a vision complementary to ours. We look forward to jointly working with the Foundation to help protect children and drive greater awareness of head injury issues."
The tour will promote awareness of youth brain injuries to high schools across the country, as well as introduce the National Pediatric Acquired Brain Injury Plan (PABI Plan). The PABI Plan is the Sarah Jane Brain Project's mission – to develop a seamless, standardized, evidence-based system of care universally accessible for all children/young adults and their families dealing with PABI, regardless of where they live. The tour will visit town hall meetings at local universities and hospitals, as well as professional, collegiate and youth sporting events to highlight the risks and symptoms associated with brain injuries. A complete list of tour visits can be found online here: www.Sports-CNN.com or on Facebook at SportsCNN.
"One of the causes of Pediatric Acquired Brain Injury is from Traumatic Brain Injury, which can be caused by any trauma to the head, including sports concussions," said Sarah Jane Brain Foundation Founder Patrick Donohue. "We are grateful to Easton-Bell Sports for its contribution to helping the Sarah Jane Brain Foundation fight Pediatric Acquired Brain Injury, as well as its ongoing commitment to developing protective head equipment that helps save lives."
About Easton-Bell Sports, Inc.
Easton-Bell Sports, Inc. is a leading designer, developer and marketer of innovative sports equipment, protective products and related accessories. The Company markets and licenses products under such well-known brands as Easton, Bell, Riddell and Giro. Its products incorporate leading technology and designs and are used by professional athletes and enthusiasts alike. Headquartered in Van Nuys, California, Easton-Bell Sports has 29 facilities worldwide. More information is available at www.eastonbellsports.com.
About The Sarah Jane Brain Foundation
The Sarah Jane Brain Foundation is one of the largest organizations in the country dealing with the #1 leading cause of death and disability for American youth: pediatric acquired brain injury. Its International Advisory Board is comprised of over 200 leading experts from just about every major medical institution and research university across the country and they created the National Pediatric Acquired Brain Injury Plan (PABI Plan) which develops a seamless, standardized, evidence-based system of care that is universally accessible for the millions of PABI families across the country. For more information about the foundation please visit their website www.thebrainproject.org