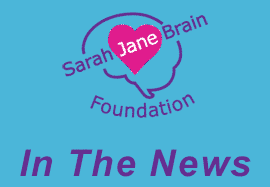 WHAT:
The town hall is hosted by the The Center for Disabilities of the Sanford School of Medicine of The University of South Dakota and Sanford Orthopedics and Sports Medicine. The event is part of the Sarah Jane Brain Project's 40+ state national brain injury tour.

This event will introduce the National Pediatric Acquired Brain Injury Plan (PABI Plan). Also, local experts in brain injury care and prevention will share information on activities happening in South Dakota.

Lunch will be provided for all attendees.

WHEN:
Friday, May 20th, 2011 (11:30am- 1:00pm)

***Also, we welcome you to cover the Youth Sports & Health – Sanford Night at the Sioux Falls Pheasants game on May 20th. Brain injury representatives will be available for interviews outside of the ballpark from 5:00pm-5:30pm and will then be handing out brain injury information inside the ballpark.***

WHERE:
Sanford School of Medicine
The University of South Dakota
Health Science Center
1400 West 22nd Street
Room 106
Sioux Falls, SD 57105
WHO:
Moderator: Shelly Grinde, MA, CCC-SLP

Panelists: Michael F. Bergeron, Ph.D., FACSM
Verle Valentine, MD
Tryg Odney, MA, ATC
Bonnie Bunch, MD
Julie Johnson, MD
Grant Boltjes, PT
Robert J. Kean

WHY:
The Sarah Jane Brain Foundation is one of the leading organizations in the country dealing with pediatric acquired brain injury. This event is a part of the foundation's nationwide public awareness campaign dealing with brain injury, the leading cause of death and disability for America's youth. The tour aims to bring awareness about youth sports concussions to high schools across the country as well as introduce the National Pediatric Acquired Brain Injury Plan (PABI Plan) through town hall meetings at local universities and hospitals.

The National Pediatric Acquired Brain Injury Plan (PABI Plan) develops a seamless, standardized, evidence-based system of care that is universally accessible for the millions of PABI families across the country.

PABI covers brain injuries from birth through 25 years of age, due to the fact the adolescent brain is still developing until about 25. According to statistics from the Centers for Disease Control and Prevention (CDC), approximately 1.6-3.8 million new brain injuries occur every year in America due to trauma in sports and recreational activities. More than 767,225 American youth visit the Emergency Department due to traumatic brain injuries each year, 80,715 are hospitalized and over 11,200 die. Upwards of 80% of the children in our juvenile detention centers across America have some form of a brain injury, most of which have not been identified or treated.

SPONSORS:
Easton-Bell Sports:
The Sarah Jane Brain Foundation is proud to have Easton-Bell Sports as an official sponsor of the tour. Easton-Bell Sports, Inc. is a leading designer, developer and marketer of innovative sports equipment, protective products and related accessories. The Company markets and licenses products under such well-known brands as Easton, Bell, Riddell and Giro. Its products incorporate leading technology and designs and are used by professional athletes and enthusiasts alike.Angels on the Bay:
Angels on the Bay, Inc. is a nonprofit children's charity. Their mission is to raise funds and awareness to help provide life enhancing services for the chronically ill, developmentally disabled and physically challenged children of our community.
NOTES:
This event is open press. Interviews will be available prior to and following the event.